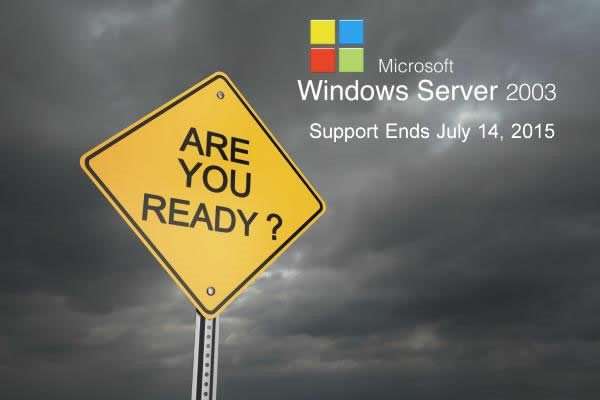 What does end of support mean for you? After July 14, Microsoft will no longer issue security updates for any version of Windows Server 2003. If you are still running Windows Server 2003 in your office, you need to take steps now to plan and execute a migration strategy to protect your infrastructure.
Security updates will no longer be provided, exposing your Windows Server 2003 installation to security threats
Businesses that must comply with regulations such as HIPAA, PCI, SOX or Dodd-Frank may face implications such as a loss of customers or high monetary penalties.
Hotfixes and bug fixes will no longer be provided
After July 14, 2015, organizations that continue to run Windows Server 2003, as well as any other Microsoft products that have hit their EOS, like Exchange 2003, Outlook 2003 and even Windows XP, won't have this advantage over attackers any longer.  The very first month that Microsoft releases security updates for supported versions of Windows Server, attackers will reverse engineer those updates, find the vulnerabilities and test Windows Server 2003 to see if it shares those vulnerabilities.  If it does, attackers will attempt to develop exploit code that can take advantage of those vulnerabilities on Windows Server 2003.  Since a security update will never become available for Windows Server 2003 to address these vulnerabilities, Windows Server 2003 will essentially have a "zero day" vulnerability forever.