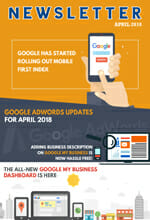 This April 2018 Newsletter covers the below topics:
Google Has Started Sending Emails About Shutting Down Unused Google+ Pages

• What is this all about
• Should you be worried
• Will this affect your Google My Business Listing

Google Has Started Rolling Out Mobile First Index

•What is mobile first index
•How do you adapt
•How will this benefit you

The All New Google My Business Dashboard Is Here

• What has changed
• Is this available to all
• How to know if you have the new dashboard

Adding Business Description On Google My Business Is Now Hassle Free!

•What is this new change
•Is this available to you
•How can you take advantage

Google Adwords Updates For April 2018

•Some important updated related to Pay Per Click and Google AdWords
•How to take advantage of these updates
Enjoy the read. We are sure you will find this newsletter a valued resource.