As the oldest of the Data Loss Gremlins, Dino looks banged up and harmless but in truth, he's an old-school trickster with a longstanding ability to destroy small businesses. Dino represents the legacy operating systems and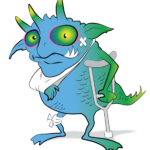 software that small businesses continue to run on their machines. He's particularly good at convincing businesses to continue running obsolete systems like Windows Server 2003. He tricks them into thinking these systems are cheaper when in reality they pose detrimental threats. Dino lets his hacker friends into the outdated systems, posing massive security vulnerabilities to businesses. He thrills at evoking higher long-term costs, lost productivity, and non-compliance to his victims.
Unfortunately, some businesses simply don't know they're running these obsolete operating systems and he's able to compromise their data. For example, Windows XP, Windows Vista, and Windows 7 are some of his favorites to run and exploit. That's where we can help businesses like yours; we're here to help put a strategy in place to migrate from these outdated programs to new and more efficient systems for your business. Together, we can send this stubborn gremlin into retirement. Let's get started with a conversation.